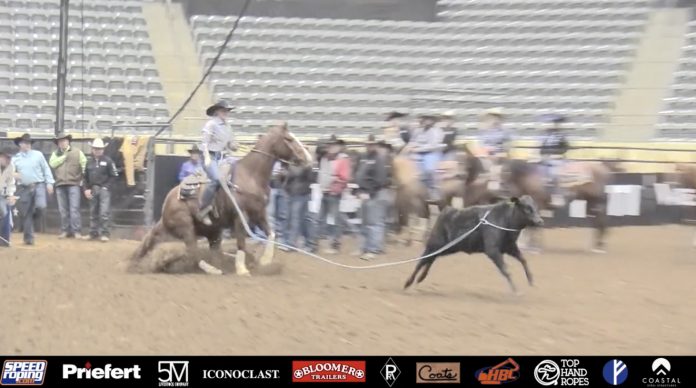 Breaking it Down by Speed Williams – November 2023
Well… it's that time of year. Hali is getting ready for the Breakaway National Finals. The other day she was unloading one of her horses when he stepped on her right foot, breaking a bone. In all the years I went to the NFR, I can't tell you how many times I was injured in October or November. In 1999 and 1998, it was from playing basketball. I'm not that good of a player, but I enjoyed the exercise and the mental part of the game. However, from 2000 on, my wife said there would be no basketball played in October and November. She spent many hours doctoring my shoulder and back and actually threatened to take the tractor and bulldoze the basketball court if I was caught playing.
I told Hali we just need to figure out a way for her to practice. Fortunately, we have a very good Physical Therapy guy, Brad Bettis, in DeLeon, TX. Since she's been injured, she competed at the circuit finals and the World's Richest Breakaway roping and didn't rope her best. But after getting her air boot operational she was excited and felt like she could make it work.
Making her first National Finals Rodeo is a major milestone. Rodeo Houston really changed the landscape of her roping and career. The interview she gave at that rodeo played an important role in adding sponsors and helping her realize her dream.
Though she led the standings most of the year after Houston, she didn't have a good summer. Shelby Boisjoli had an unbelievable summer winning $25,000 and was able to win Sioux Falls. Now Hali is going into the finals in second place, $18,000 behind first. I told her, "If I had told you at the beginning of the year you would have close to $150,000 won and a chance to fight for the title when you got to Vegas, would you be happy? You still have a chance but you're going to have to roll the dice." For me, mentally it's less stressful to come in at second than to go in at the lead for your first world title.
She's had a phenomenal year and there's a lot we're working on with her roping, riding, and getting more horses. I really feel like the Breakaway world has the opportunity to explode like no other event in rodeo. When you go to the 15 & Under, and 12 & Under jackpots there are girls from all over the country who are very competitive and riding nice horses. The opportunities in front of these young ladies are exciting. It's also very appealing for businesses to sponsor some of these girls because they are poised and able to give good interviews and have interesting conversations.
We're going to work on healing Hali's foot so she can practice and get ready for her first NFR. I have been using the Speed Trainer a lot with both kids to work on some of their weaknesses before we ever get on our horses. It's invaluable for isolating and addressing problems with roping and/or riding. I don't think my kids would be as far along as they are if we had not had the Speed Trainer.
I'm not sure how much time we'll spend in Arizona going to jackpots this year. I've been heeling a lot and Gabe has been working on his heading. It's very tough for him to win heeling when the top 15 are home and going to local jackpots and rodeos. I've tried to explain to him about keeping his money together and taking some time to work on his heading. We are doing much better and starting to turn the corner of getting out, catching, and handling steers. For a long time, he had the same mentality as my father… "he was loose when I caught him."
Teaching my son to head was a challenge in the beginning, but it's starting to be fun getting into the intense part of heading. I've been heeling for some of my clients and getting some checks. This heeling is a lot less work than heading.