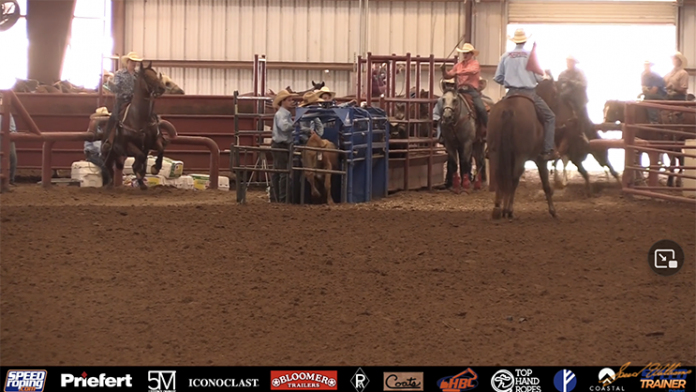 Breaking it Down by Speed Williams – February 2023
Teaching people to rope is something I've been doing for many years and I truly love it. To have any success roping, there are some fundamentals you must learn and master.
For beginners starting out, you should be roping in the lower numbers where the steers are older and slower. This is a safety precaution to keep beginners from getting hurt.
When I was a kid, my dad taught a lot of people to rope. He had customers all over the east coast, from New York to Miami. Some of his customers wanted to rope but had never ridden or roped a steer. As a kid, it was my job to teach them to be able to catch. That's pretty tricky.
I found when you're trying to teach someone to ride, get in position, and catch the cow, the most successful option is for them to rope right to left. In other words, laying it on the horns. There are a lot of people who learn to rope both horns at the same time, usually on the dummy. This is how I rope most steers with what I call "a lot of English." The problem is when you're learning to rope and have learned to catch both horns at the same time, you need to throw a very precise loop. It comes down to having control of your rope.
Beginners who get very nervous and aren't confident, can get in a bind when they have a chance at the short go and all they have to do is catch. This is where they need to be able to "lay it on one." Most of the time when they get to the short go, the steers are slower after being roped all day. Instead of trying to rope both horns at the same time, all they have to do is get their tip over the horns, swing their rope, and come out of the swing and cover the horns. By doing this you turn your thumb up, your pink slightly down and wipe it across the horns.
I can't even tell you how many times in my career that I went back to these fundamentals when I drew a big horned slow steer… many, many times. One of the drawbacks of roping right to left is if you are roping small horned cattle. If you feed your rope to a big loop many times it will come off small horned cows. But when analyzing your options, take into consideration the roping, the time, the situation, and the horns. Using a golf reference, you should choose the best club needed to rope the style of cow.
This is a basic way to start out learning to rope. As you get better, then learn to rope both horns at the same time. I have a lot of students who come to me with holes in their fundamentals. It's no different than building a house. You must build the foundation first, then it's always there if you need it.
I had a student who was very a successful businessman. He told me he only wanted to rope one way. I asked if he also played golf and he said he did. I told him, "I want you to play golf with just one club." He replied that wouldn't work very well. I said it was the same principle with roping. If you can get in the same position every single time, then one club will work.
So, after thinking about it, he said, "I understand, I have to be able to read the cow and be able to rope him." I explained he was correct because if you draw a runner, you won't be able to get in the position you need to catch. If you have a slow steer and get right on top of him, it will take five or six swings to position yourself to catch. Those are two totally different deliveries.
That's what I do with my Speed Trainer and dummy. I set it up in multiple positions to find weaknesses. I have a very good friend, who was one of my sponsors for years. When I set the Speed Trainer at a certain spot with an 18" window, he looked like a #7 header. Any other position and he couldn't catch the dummy sitting still. This is a result of roping the dummy from just one spot and we need to learn to catch from anywhere.
So many people rope the dummy from their sweet spot. I try to find their weakness and that's the cow we work on. Because that's the one that will take you out of the roping.
What's new with me:  I don't know if my son is getting better, or my it's my teaching, but we're having a lot more fun in the practice pen. We're working on his first swing and not getting so excited when he catches and goes too fast across the pen. I told him if I'm going to heel for him in the #14, he has to handle the steer and make him look easy.
 One of the things I'm trying to teach him is to isolate his legs and be able to use one or the other when he's in pursuit of the cow. That's where the Speed Trainer comes in handy. Most people pull on the reins when they start kicking. But when I'm able to get my clients, or my son, capable of isolating their legs, it makes controlling the horse much easier. I will be posting videos to speedroping.com of this journey of me teaching him to head.