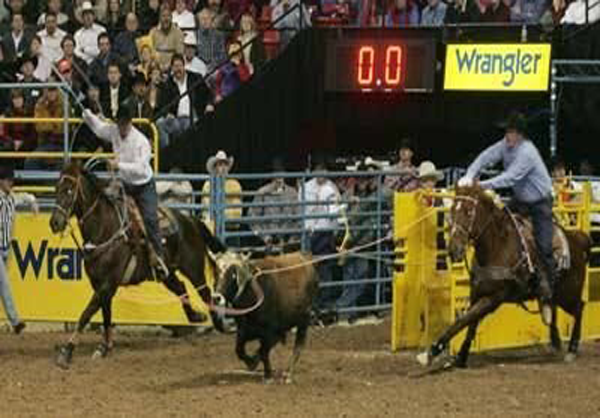 The Luck of the Draw

One thing I learned to accept during my rodeo career was accepting the luck of the draw and how much of a factor it plays into whether or not you can be successful. There were times when Rich and I would show up, know the stock, draw the best in the herd, and it's very enjoyable to know you just have to do your job to have a chance to win. Then when you draw the worst cow in the herd that's a completely different story.
My daughter, Hali, experienced this roller coaster last weekend at the Junior Rodeo. In the team roping, we had a rerun and got to see the steer go. He broke slow, ran with his head down and his nose was literally 12 to 18 inches off the round plus he had short horns. We rope a lot of mulies at home for cattle like this when you need to rope one around the neck. But this one was difficult because his head was so low, it would be easy to catch a front leg. She did not get the nose and it rolled off and she missed. But she had a game plan and sometimes that's all you can do. Sometimes you cannot overcome the obstacles presented to you.
In the Breakaway a lot of the calves ran hard. It's a long box and short barrier and as soon as the gate opens you can go. She had a calf that ran and she broke the barrier and was 2.4 plus ten. In the Goat Tying her goat kept pulling his leg out, like a kicking calf.
After the rodeo, we put our video on the computer, as we do every night, to watch it and talk about the little things that go right and wrong. In this profession you have to understand that sometimes when you put your money up, you have very little odds of winning – depending on what you draw. Yet you have to stay positive and confident that your horse worked well and you accomplished the fundamentals necessary to win.
She didn't really get upset but it was tough for her to have such a bad day in competition after having some outstanding practice sessions. The next day she did much better. She won the Goat Tying, placed in the Breakaway, placed in the Team Roping, she and Gabe won the Ribbon Roping and what excited her most was winning the Barrel Racing, which is highly competitive at Junior Rodeos. I think she was more excited about running a 16 in the Barrel Racing than she was when she won the #11 at the USTRC Finals.
The fact is you can't beat yourself up when you draw badly. You need to understand your ability, the odds of overcoming obstacles, and be as prepared as possible for what you draw. It's a very humbling sport because the cow doesn't know or care who you are or what you won yesterday.
I try to teach my kids to understand their weaknesses and how to prepare to win. Hali is very business like. She's a lot like me; she doesn't talk very much and is very focused. Then I have my son, Gabe. He never meets a stranger and will talk to anyone anytime, even when he's in the box. He has a ball at whatever he's doing. I get a lot of compliments from parents about how my kids handle themselves. This weekend was the first time they had won the Ribbon Roping and when Gabe crossed the line, he was hollering and throwing his hat in the air saying, "I did my job finally!" It has been pretty comical to watch my two in Ribbon Roping and all the things that have happened to them. Needless to say, a lot of parents and kids were laughing at them. They are having fun whether they are teasing each other or whooping and hollering.
I have total respect for any rodeo parents that have hauled their kids to Junior or High School rodeos. I am blessed to be able to help my kids with the little things to improve their horsemanship, and their riding and swinging. But when you have kids that do all the events… the practice, the work, and the effort that goes into getting ready is overwhelming. The amount of preparation time involved is huge.
That's one reason they each do 25 drills on the Speed Trainer every day in heading, heeling, and calf roping. It's very hard to break habits when you're trying to catch a live animal. It's difficult even when roping a mechanical dummy like the Hot Heels. You're still worrying about balance while swinging your rope. It's a major difference when you're able to break it down to angles, speed of your rope, weight in your stirrups and not riding your bridle reins. The main reason the Speed Trainer was designed was to help teach my kids not to pull on the reins while they're trying to rope.
What's new with me: In addition to the preparation for our Junior Rodeos, I've been teaching clinics. The kids' rodeo runs are on speedroping.com if you care to watch.