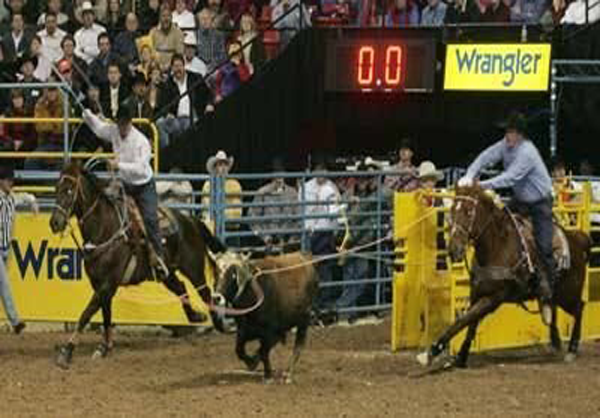 Cowboys making history at the American

The sport of team roping took a dramatic turn at the American rodeo last month. With letting half of the $100,000 count towards the PRCA standings and ultimately the NFR, it put Ryan Motes and Coleman Proctor in a great position this year. I couldn't be more happy for them and what this means for our sport.
Coleman is a close friend that we consider part of our family and I wanted to talk about how far he's come. Not long after I started my training website, speedroping.com, I noticed his name as a paid subscriber. Even then he was a #9 header and #10 heeler. I invited him to come rope with us the next time he was in Texas. We quickly formed a friendship even though I ragged him a lot. When he first showed up, his ability with a rope was outstanding, but his horsemanship left a lot to be desired. We'd rope, and then watch the video and break it down and talk about what needed to be worked on.
In 2013 I had decided I wanted to rodeo and planned to go for 45 days or so. Coleman had always picked on me to give him a chance to heel for me. He heeled for Jake Long when they were young and switched ends so he was very talented on either end. He would send me videos of his heeling and call every few days asking if he could come "try out" as my heeler.
When the time came I called him and told him I was getting ready to pick a partner and asked if he wanted to try out. He said he didn't think he really had a chance. At the time he was day working for about $150 per day.
I told him, "I'll make it fair. You've bugged me forever. If you come to the house and try out and it doesn't work out, I'll give you a check for $1,000 to pay for your trip so you don't feel like you've wasted your time."
He showed up with two horses, his good head horse, Booger and another. Needless to say he rode well but his horses were lacking on the heel side. I let him ride two heel horses that Jennifer rode, LC and Randy. I was completely blown away with how well he roped going fast. But, when I said we were high team and had to be 11 seconds to win, he struggled at staying back and pushing through heeling. But going fast and riding the corner, I was completely impressed with Coleman's heeling.
When I asked why he wanted to heel, he said, "I wanted to be around you and learn what you do at the rodeos. I want to get better with my heading and prove to you I can heel." He did an outstanding job of heeling for me. We struggled at the jackpots and after the USTRC Finals we split and he went back to heading. We have stayed very good friends and he's almost like my adopted son. He still wears my speedroping patch and sends me videos. We break them down and talk about what he's doing.
At the American semi-finals, all he had to do was have a qualified time to make it to the next round. He missed the barrier and if you've seen the video, it was wild and they were 20-something on the steer. We discussed in great detail why you would miss the barrier in a short arena when all you had to do was get a time and the barrier would not affect you.
For Coleman to back in the box at the American rodeo for a chance to win $600,000 a man – that was an amazing feat. I'm very proud of him, he's come from doing $150 for day work to having a half a million dollars in the bank. He's still trying to convince me he can heel and was trying to get me to head at the qualifier but I told him after breaking my ribs last summer I didn't feel sharp in my roping.
My hat is off to he and Ryan Motes for this accomplishment and making history. I suspect this will make a lot more people try to qualify for the American next year since it can help them qualify for the NFR.
Coleman has come a long way in his horsemanship and roping. He's supposed to come and rope with us next week. We're going to sit down and voice over his runs at the American. I'm sure it will be entertaining. Way to go Coleman.
What's new with me: My son, Gabe, has gotten where he's heeling pretty good. We're going to more jackpots and hauling the Speed Trainer to show people the benefits of practicing using this tool and how it helps with your riding. When we rope the dummy on the ground, we're not accountable for what our hands and feet are doing. The Speed Trainer lights up when your left hand is out of position. For more information on the Speed Trainer visit my website, speedroping.com, and check out some of the videos.