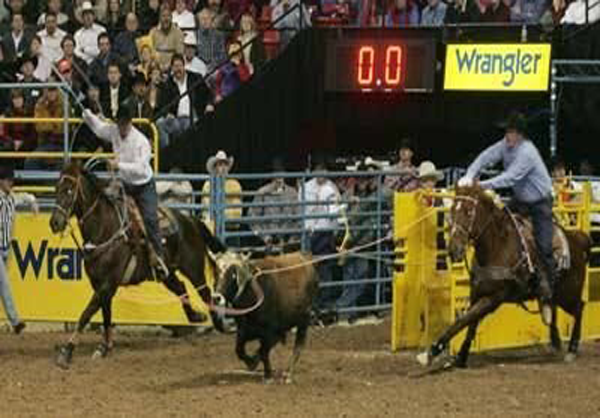 Getting help with your roping
I always knew I wanted to teach and help people with their roping once I retired from rodeoing full time. Rickey Green was the very first to have a training web for team ropers. Not long after, once I retired from professional rodeo, I launched speedroping.com. For many years, while I was competing, I was very private about how I practiced, the drills I used, and how I worked my horses. These were things I just didn't do around many people. But when I started speedroping.com, I published videos that showed my practice and horse training methods, for my subscribers to watch.
Twenty years ago, when I first started doing private lessons away from home, I charged $2,500 per day. That's what it was worth to me to take two or three days away from the practice needed to win a gold buckle. And if someone was that serious about getting better, I would go help. We would film and do our practice just like Rich and I did. I still charge $2,500 a day to travel away from home and $1,500 a day for lessons at my house. For those who want a little help, I charge $250 and hour with a minimum of two hours. I always incorporate video playback because it's invaluable.
I have quite a few clients who come to my house every month or two. One of the things I've told them is to get all the information and help they can for their roping. I'm a firm believer in listening to my peers and their thoughts on roping and what needs to be done to accomplish goals. There's nothing wrong with going to different instructors and hearing what they have to say because they might pick up on something someone else missed. Or they may say it in a different way that makes more sense to you.
The most important tool I use when teaching is a video camera. It makes my job so much easier when you can see what I see and I can explain why. For example, if you are giving your heeler a bad corner and not handling the steer correctly, we can back the video up to when you released your horse and see where your feet and hands are. Are you in control? Are you riding correctly? When you rope are you in position to control your horse? If you're squeezing with your right leg when you throw, but pulling with your left hand, it will cause your horse to fight you. Your feet and left hand will determine whether or not you are successful with your right hand.
There are a lot of guys that do a very good job of explaining team roping. Ultimately you need to find someone that explains it where you can understand and make it work for you. Whether you're heading or heeling it comes down to fundamentals. If you have good fundamentals, it's easy to build on. If you don't have good fundamentals, or control of your horse or rope, it's very hard to be successful.
No matter who you choose, I believe you need three days to make a real change. A one-day school is very hard for first timers and tends to get people confused. It takes a few days for information to sink in, and to have a good understanding of what you're trying to do.
With the huge payouts now, many people are taking their roping more seriously and are willing to invest in getting help. It's given opportunities to guys like me, who have been successful in this sport, to do something for a living that we thoroughly enjoy. When my kids played ball, they regularly had private lessons. I knew the advantages of one-on-one teaching and how much faster they could improve. I enjoy teaching and helping people with their roping. I enjoy it even more when I see the improvements they make from the work we've put in.
I often tell people, "Don't come to my house looking to be told how good you are." I critique myself all the time and find something in every run I could have done better. My wife has had to explain this to my kids, because when they make a good run or win first, I don't just talk about how great it was. I naturally think about what we can do to eliminate problems or make it smoother. It's how my mind works.
With so many finals during this time of year, a word of caution not to try and make huge changes in your roping right before an event. Make sure you have the time and opportunity to get things lined out. The last thing you want to do before a big event is go to a school, fight your head with trying to change what you're doing, and then lose your confidence.
What's new with me: I'm excited to say my daughter, Hali, is finally on the mend. After having two horses fall with her, she's had a lot shoulder pain this year and then recently tweaked it causing her a lot of pain. She had an MRI recently which didn't really show much. I called Shawn Scott, my friend and chiropractor of 20 years. I used to make sure Shawn was in Vegas every year during the NFR to keep me in good shape so I could function at my best. Shawn works with Justin Sport Medicine and what he determined was she had nerves attached in places they shouldn't be. She's been going to physical therapy now for two weeks and is amazed how quickly the pain has subsided. She's back in the practice pen, almost pain free and that's exciting because I've really missed having my daughter in the practice pen with me. Gabe just wants to rope all day, every day. It's been a blessing and we've come a long way from when they both played ball and have now decided to be ropers. It sure makes my life easier.