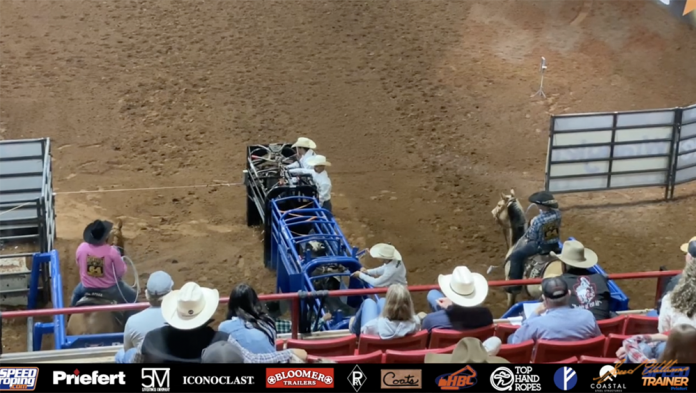 Breaking it Down by Speed Williams – May 2022
Ever since Darren Peterson bought the BFI, he has called and texted trying to get me to come to the BFI. I have explained to him how fortunate I am to stay booked with private lessons and get paid to rope at home almost every day. I told him I would be coming soon enough because my son always talks about roping in the BFI one day.
So, when Darren called this year, he started out by telling me they were having a Legends roping. You had to be over forty and couldn't have been to the NFR in five years. I told him Gabe had been beating me up about roping in the BFI this year. When I told Gabe about the Legends roping, he didn't miss a beat and said, "Dad, that means you and I get to rope in the BFI," and I replied, "Yes sir, we get to rope in the BFI."
I figured I would be roping with Rich Skelton and Clay Cooper in the Legends roping. When I texted Clay, he said he and Jake already had schools scheduled for those dates. I didn't really call anyone else and then Matt Sherwood asked if I wanted to rope. I told him I would since Clay couldn't come.
Recently I bought a horse from Dustin Egusquiza that was a little green. He had a chip in his ankle, causing him not to work his best. We had surgery done and he was just finished healing when we decided to go to the roping. I only had a few days practice on him, so we weren't 100% in sync, but I wanted to give him a chance there.
They had a #15.5 scheduled before the Legends roping on Friday. We were going to dinner the night before with a friend of Gabe's, Will Smith, who is a #7 heeler. Gabe thought it was a great idea for Will and me to rope in the #15.5 to give my horse a "try out." We would need to get up early being an add on team. So, Gabe got to see firsthand how early I have to get up to get ready. If we rope at 9 a.m., we get up and get started at 6 a.m. Will roped a leg on our first one, we were clean on the next two but too long for the cut. But it gave me a lot of confidence in my horse.
They shortened the barrier for the Legends roping and we were roping some little fresh steers. I thought my horse worked great. After three head Matt and I were 3rd high call, and Rich and I were 5th. On our fourth steer I was very aggressive at the start and didn't handle him the best, but Matt pulled off a great heel shot. We end up high team back. Rich and I were nine again on our third steer and our fourth steer was slow. Coming across the line, I looked down at the barrier – a major no-no. When I looked up, I was closing in on the steer and my horse was flying. The steer steps to me and I split the horns.
Matt and I are high call and have to be 12 to win the roping. This is exactly what I teach every day. Discipline, ride your horse, get into position, and take a high percentage shot. If I had missed this steer, I can't imagine how many calls and texts I would have gotten from my students. Because this is the very steer where you go back to the fundamentals. We drew a nice paint steer and made a good run. We won the roping and split $40,000. They only had 34 teams and going back-to-back got my horse a little hot which made me a little nervous for the BFI. Overall, I was very happy with him.
The next day is the BFI and Gabe and I are roping. At the BFI I felt like I took a safe start. The box is 19', the barrier rope is 22' and they use an electric eye, so you need to give him an extra foot. The steer might hit that eye with his nose or chest, so you need to see 1 to 2-1/2 feet daylight around the end of the gate. I wasn't nervous because I'm confident about scoring and catching. After the first two rounds, we're 17 on two. Gabe had heeled both steers outstanding. Our third steer was small, wiry, and wild in the chute. When the gates banged, he left fast, and I flinched on my horse a little. When I flinched, he took off and we ran through the barrier. We ended up 10 plus 10. Now we have to try and place in the round.
I got a good start on our fourth steer and reached a long way. My horse and I weren't in sync, and I didn't give Gabe a very good corner. He pulled off a good shot and we were 7 flat. Now we're down to the last cow of the day and I wanted to give my man a chance to win something. I thought I had seen him far enough and felt like I reached a long way. My horse worked exceptional, and my son heeled him on the first hop. We were 5.1 and when I faced, I knew that was one of the most special runs I'd ever experienced. For my son to rope on the biggest stage and to pull off a shot like that in front of all the people he looks up to… and then the buzzer goes off. It didn't really devastate me because I was excited for what Gabe had done. I rode out of the arena thinking that he heeled all five steers by two feet and if I had gotten out on the barrier, we would have made the short round.
Now I have one major problem… he wants to go everywhere. What an experience for my boy who didn't care about roping until he was eleven. But when the bug bit him, now it's what he wants to do all day long. I keep telling myself this is what I wanted. I'm very happy both of my kids have chosen to do something I know about and can help them with. Plus, there are so many things about roping that apply to everyday life.
What's new with me: In the past I have mostly taught private lessons with just a few bigger groups. This year I have started teaching some bigger schools on the weekends. This past weekend we had ten people and it was a lot of fun and a great group of people. We start out roping then eat lunch and watch the video playback. I put it in slow motion, and we talk about it. One of the nice things about bigger groups is you get to see problems other people have, other than just yours.
 It usually comes down to your feet and left hand. Most of the time it's not your right arm causing the problem. The left hand affects your roping far more often than your right hand. There's no arguing with the video, even though people try sometimes. The only way to get better is to see what you're doing. Then we give you a plan to work on to become more consistent.