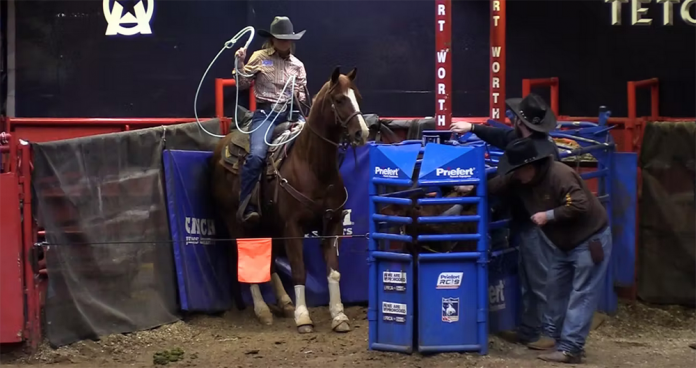 As a competitor who has had a fairy tale career in rodeo, it's amazing to me that my daughter, at 18 years old, has qualified for a chance to win the kind of money we will see at the American in Breakaway roping. And even though Gabe and I have qualified and it's a long shot to progress through the rounds, it was just a few years ago that Wesley Thorp and I made the final four. The qualifications for the American are tournament style with several elimination rounds. But we do get to rope in the building where we've been competing in Ft. Worth at Cowtown Coliseum on the weekends. It is very exciting and fun to think of the financial possibilities if things were to go our way. There are many people with that same dream, and someone is going to come through.
What's so great about this opportunity is you don't have to rodeo all year long to qualify as with the NFR. Anyone can enter and that's what makes it so special in all the events. It's truly exciting for me and my family. When I get home next weekend, we'll set the box to 13' 10." I don't think I'll be practicing the one-swing. We'll go a little more conservative with two swings. This will not be a "going wide open" event because of tournament style. I think there's 100 in the first round, then 20, then 10 and down to five. A lot depends on when you draw up in your round.
My son is very excited about entering the higher numbered ropings and maybe a few Open ropings. He has started to show interest in heading correctly. He does a good job with fundamental heeling, but when he heads, he plays and loves to go fast. I can completely relate; it could be in the bloodline. I've told him, with his number, he needs to learn to catch and not just come across the line and drop three coils and go left. That's something we'll work on after the American.
I was asked the other day if I would be nervous roping with my son at the American. Honestly, the way it is set up, you must make good runs to make it to the next round. I just don't want to be the one who makes a mistake. I want to give him an opportunity to progress. I have given him some bad handles and he's caught some, missed some, and I've missed some. But I feel a little more prepared since we've been roping at the Cowtown rodeos regularly. We are familiar with the building and feel comfortable there.
It's very special to go rope with my son and be his first opportunity, because hopefully there will be many more opportunities for him and my daughter. I get to help teach them, and their horses, how to prepare mentally and physically. That is truly a unique experience for me and for them.
No matter who wins the American, it will be a special day for the winners of each event. I wish all the contestants the best of luck. But as we all know… there can only be one winner. Who will it be?