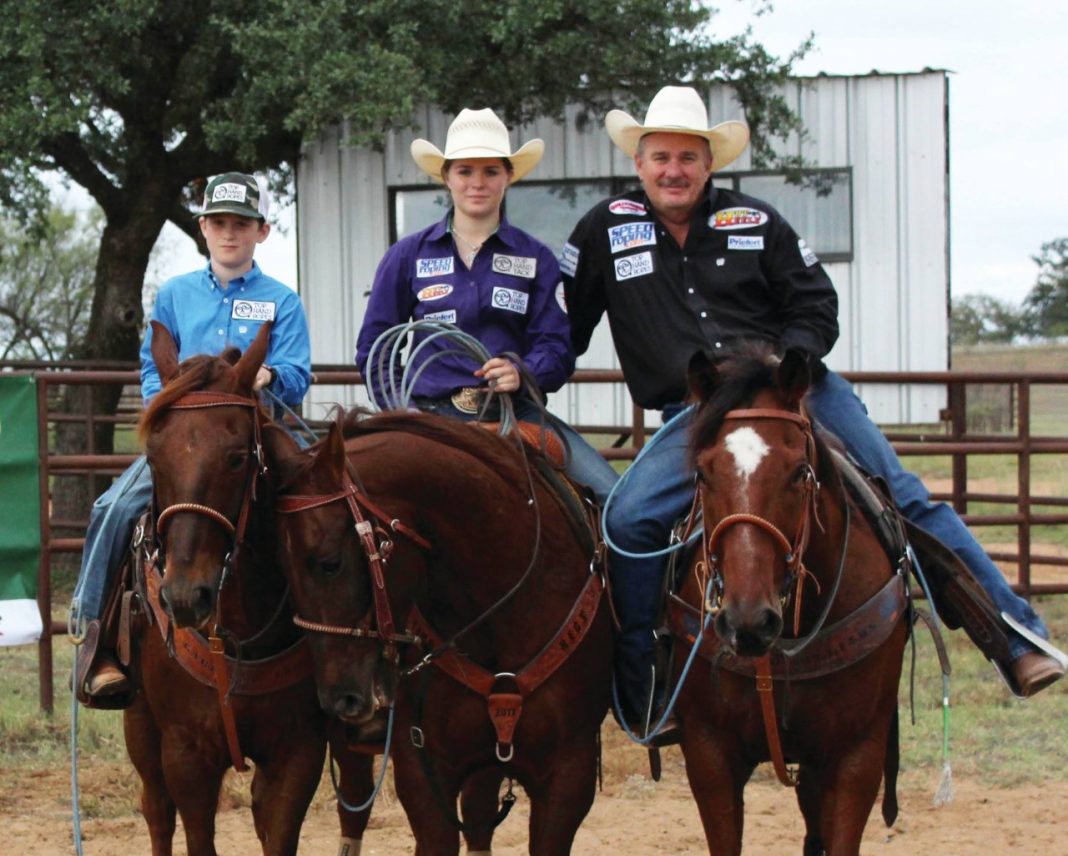 Wildfire Pro Am Event
Last weekend my kids both achieved something they've worked at for the last few years. One roping produced at the Wildfire event, is the Sponsor Pro Am. In this roping, companies who sponsor the Wildfire event are given a spot for a #5 or under to rope with a Pro. Both of my kids have been fortunate enough to rope in it for the last few years, but have never won it. This is a roping where the amateur headers rope against each other and the amateur heelers rope against each other. So basically there are two amateur short rounds – one for headers and one for heelers.
A few years ago, when Hali was 12 and a #3, she and Coleman Proctor came back high call. At that time the short round was the next day and run with the Open and All Girl short rounds. When it came down to it, she had to be a long 7 to win the roping. At that time, when she was nervous, sometimes her loop would go under the horn on the right side. I can't begin to tell you how nervous she was roping in front of all the Open pros… and she missed. It took a long time for her to finally be able to let it go. But I do not believe since then she has missed one because she dropped her arm and went under the right horn.
For the next couple of years she wasn't in a situation to win the roping. So this year when she was trying to decide whether to ride her good horse or her back up horse I told her, "Honey, you've wanted to win the black saddle for a long time. Take Spiderman down there so you have the best chance to win it."
She came back high call with Jake Long and third high call with Junior Nogueira. Her third high call steer didn't start and she broke the barrier. For her high call steer she had a short horned steer that tried a little. She roped him around the neck, he didn't handle the best and Jake Long pulled off an outstanding shot, winning the heading.
My son, Gabe, was 9 when we roped in it together several years ago. We won second then and one year he lost his rope. So for him to come back second high call this year was a great achievement. I have to give my buddy, Coleman Proctor, some grief on their first steer out for splitting the horns. Gabe did a great job of getting him caught and they there were 11. I think Coleman was a little nervous roping with Gabe. He did an outstanding job on the next two and their high call steer. I'm happy Gabe was able to win his first saddle with Coleman.
Both of my kids have been trying to win this roping for several years. It's pretty special for them both to win it at the same time. I want to thank Chad Havens with Bridgefield Electric and Precision Hydrovac for sponsoring that event and giving my kids the opportunity to compete.
They've both been working hard on the fundamentals that they don't do correctly. The Speed Trainer has allowed me to isolate and work on their weaknesses. It's hard to work on fundamentals when you're running down the arena, whether it's on live cattle or a mechanical dummy like the Hot Heels. While riding you're trying to balance on your horse and swing your rope, versus when you're on a stationery horse you're able to focus without those distractions. This tool has helped my kids improve and have better success. To see their runs at the Wildfire event, visit speedroping.com.