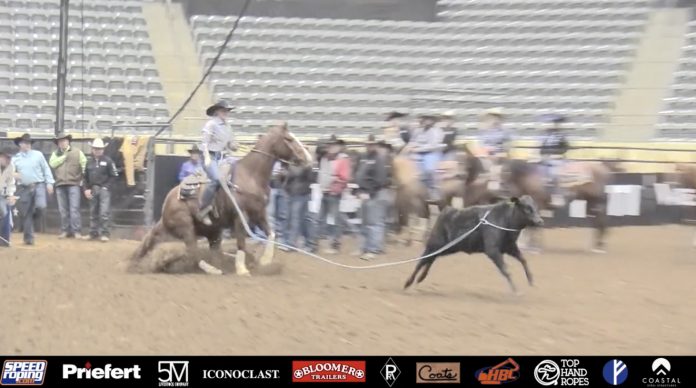 Breaking it Down by Speed Williams – May 2023
By the time Hali was 15, she had won the USTRC Finals #11 twice and had been moved to a #6 header. This changed things and it was much harder for her to win. She asked me if I thought she could make a living with a rope, and I told her it could present opportunities for college scholarships where she could decide what she wanted to do for a living.
At the time I had no idea Breakaway would get as big as it is now. What my daughter has been able to win in the last nine months has amazed me. Jackie Crawford won $600,000 on one calf at the American Rodeo. Hali was fortunate to qualify for the winter PRCA rodeos and has had some success. She won 3rd at Ft. Worth; she was 1.8 at San Antonio and won 3rd in the final round. At Houston she was 3.6 and won $50,000. For a 19-year-old girl who never intended on being a breakaway roper, her future has completely changed because of it.
Last year she and her mom hit the rodeo trail the end of June. Her goal was to qualify for the winter rodeos and hopefully make the Breakaway NFR last December. She started out placing at Greeley. Afterwards she got an inner ear infection which messed up her equilibrium for six weeks or so. She wanted to come home because she couldn't ride across the line or catch with her balance being off. My advice was to wait it out because you never know when you'll start feeling better. There was no sense in driving home and having to turn around and go back. That agony she had last year made her success this winter even more special.
I told her I would be at Ft. Worth for her first calf. She was so nervous. It was the same at Houston, but she was able to overcome her nerves and now she's headed to the California rodeos with a $40,000 lead in the world standings. After winning $50,000, my first reaction was that she wouldn't need to go to California. Then I realized if I was 19 years old and had a big lead for my first world title, I would go to every one of them.
My advice to her when she was in the final four at Houston was, "Enjoy the moment and have fun. This one calf won't define you if it doesn't go well." I was trying to help take the pressure off.
After she won Houston, I received so many calls and texts about her interview. I can't even describe how proud I am of the young woman she's become. I retired from full time competition to raise my kids, and to see her succeed on the biggest stage in the PRCA is just incredible.
As a father I can relate to all the parents who have turned out many, many calves for their kids. I'm often asked about how we practice. Unless it's muddy, or they don't have a stripping chute, I don't use a breakaway honda very often. A few times it has caused a figure-eight on the front leg and shot back dangerously close to her head. We work on reaching a lot. When reaching, the breakaway honda has a different feel than running close and roping the neck. It also gives her time between runs to walk her horse to the back end, get her rope and come back. Very different when you're training your horse than if you're roping for yourself.
My philosophy is we're working on reaching and being accurate with our rope, and I want some balance and feel. It's the same with the Speed Trainer when we're trying to pull off different shots with the calf going right or left. We try to prepare for all situations and that's what I like about practicing on the Speed Trainer. I can set it up with the shots she struggles with. Those are getting to be less and less all the time. We leave the calf in the same place until she figures out how to catch it.
What's new with me:  This year at the NFR, I approached Eddie Priefert and told him I had been getting great response about the Speed Trainer. I visited with him about Priefert helping market the Speed Trainer and he informed me he did a lot of business Smarty and felt like the Speed Trainer aligned well with what they do. I met with the team at Smarty and am very excited to say Smarty will be taking over production of the Speed Trainer and will help market them.