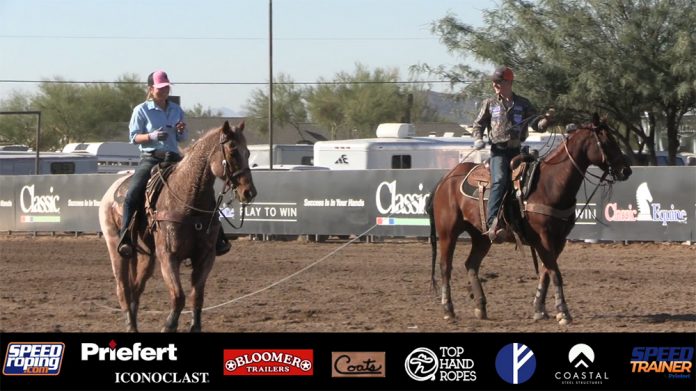 Breaking it Down by Speed Williams – January 2022
Arizona, a Team Roper's Paradise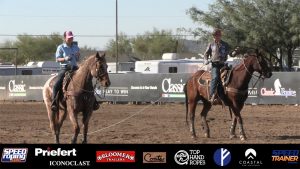 December was quite a month for our family. We left before Thanksgiving, stopping in Andrews for a clinic, then heading to Wickenburg, Arizona. It's something my son has looked forward to for quite a while. We took two rigs and ten horses, and the kids did a lot of roping. They were fortunate enough to win more than they spent for ten days of roping in Arizona. It's truly a team roper's dream. In Wickenburg there were five ropings happening at the same time in five different areas with close to 3,000 teams between them. That's not counting all the ropings going on every day with 500-600 teams. Hard to imagine so much happening in such a small area.
While in Arizona, Chad Smith hosted some clinics for Rich and me. These were held at Stutts Ranch Resort & Arena. Jerry Stutts has built a very nice facility with RV Hookups and apartments for rent. The facility also has a recreation room with all the amenities where we could play video on the TV and break down the student's runs in slow motion.
Afterwards, we went and visited my old partner, Dean Tuftin, at DT Quarter Horses. After Dean and I made the national finals, he gave up rodeo professionally and started raising some very nice quarter horses. He has been raising working cow horses and is getting involved in the team roping futurities with some of his young horses. He let Hali and Gabe ride some of his horses and my son was in heaven. Gabe sure likes a flashy horse that can slide.
Chance Kelton and his family welcomed us into their home for Thanksgiving. Ketch had gotten up early that morning and penned a bunch of fresh steers. After eating we went out and practiced. I want to thank the Keltons for making us feel at home. Afterwards, we returned to Wickenburg to get ready to rope.
With so many teams, it's common for them to have a cut-off in the first round. Sometimes 10, 11 or 12 seconds and sometimes you had to make a clean run on your first one to progress to the next round. Even with two arenas Rancho Rio had to cancel a roping every day because they had too many teams to run all their scheduled ropings. There are so many opportunities to win a lot of money. But many things need to line up with that many teams where often there's less than two seconds separating first and 25th call back. If you've never experienced winter roping in Wickenburg, it needs to go on your bucket list. All the videos of my kids roping in Arizona, including Dean's Ranch and the Keltons, have been uploaded to speedroping.com. You can see the good, the bad, and the ugly.
Afterwards we went to Vegas for Gabe to rope in the #15 and #14.5. Gabe had a chance in the #15 outside and lost a leg to win second. He placed in the #14 warm up. In the #14.5 Finale, he and his Uncle Philip were six on their first and their second steer didn't start very good. They had a chance but it's very tricky with the WSTR start and the box being long. I tell all my clients they need to predetermine what their steer will do before the gates bang. You'll always watch your steer, but if you think he's not going to start and you pull and then he leaves, it's almost as bad as breaking the barrier. When you try to catch at the back end a lot of bad things can happen. Based on the number of teams that enter World Series ropings, apparently ropers prefer the World Series start. Some of the stock contractors are starting to move the electric eye closer to the head horse and move the steer barrier making the start more difficult. A long box makes it difficult when you draw a runner.
The World Series of Team Roping finals in Las Vegas is the premiere roping event. It takes an enormous amount of organization and preparation for a production of this size to run smoothly. I don't know exactly how many teams roped this year, but there were a lot of people who got the opportunity to rope for life changing money. In the #8.5 Finale, a team with three clean runs and a leg won over $100,000. If you're a team roper and have any gamble in you, you should consider making this trip.
There were some very tough and fast rounds at this year's NFR. I take my hat off to Kaleb and Junior for winning their first world title in the team roping. I think Kaleb has really tried to change his heading from trying be so fast to being very controlled. He turned a lot of steers for money this year and put himself in a position in the tenth round where all he had to do was catch to win a world title. My hat also goes off to Andrew Ward and Buddy Hawkins for breaking the average record that has stood for almost 30 years. I was very impressed with Andrew's head loop on their tenth steer. After missing the start he was still able to make a clean run. Missing the start at the Thomas & Mack makes any run extremely difficult.
This year we had a Speed Trainer set up at the warmup arena at the South Point. It was interesting to me how many people could not catch the dummy when it was moved close to the Speed Trainer. That is a steer that many people miss in the low numbered ropings. When you draw the slow cow, he is the one that will give you a chance to win money. It's important to practice roping the slow easy steer and not just the fast steers. Learn to catch the steer that is close to you rather than getting a good start and having to pull off to get away from the cow to catch. You cannot believe how many times in the short round people miss the good cows.
What's new with me: We have finally booked some bigger schools at the house. I'm close to being full with private lessons and only have a few free days between now and May. Check out our schedule and on speedroping.com where we have at least one two-day school scheduled each month. These are limited to eight headers and four heelers. You can sign up and book your spot on speedroping.com under "Schools."