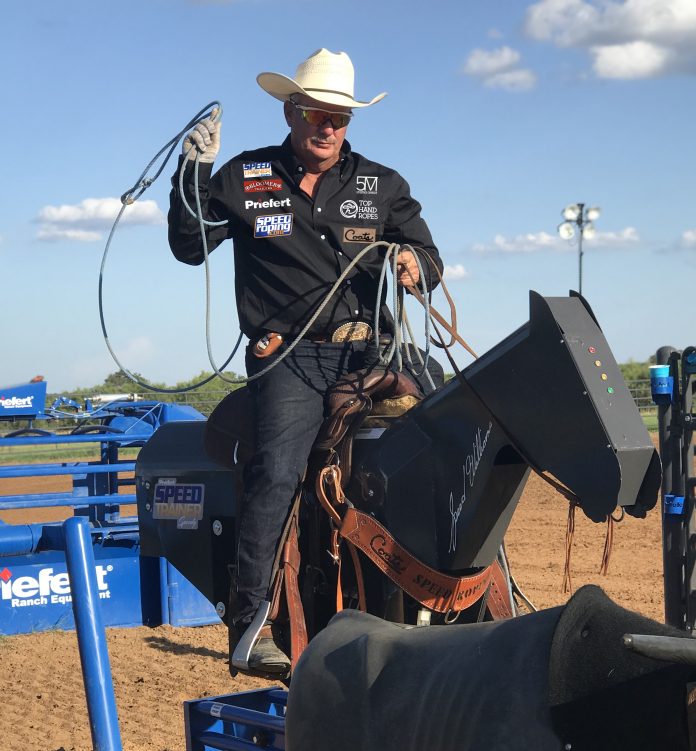 Breaking it Down by Speed Williams – December 2021
It's the time of year both my kids look forward to… team roping in Arizona. This time of year, there are jackpots held every day of the week in Wickenburg and surrounding areas. If you've never been to Arizona from November through February, it is absolutely a team roper's paradise.
At the time of this writing, we are on our way to Arizona. I will be teaching some private lessons and the kids are taking seven head of horses between them. Hali has chosen to focus on her heading and team rope while we're there. She had qualified for a lot of the breakaway ropings in Las Vegas, but we'll be in Arizona for three weeks and not practicing roping calves.
Gabe has been winning lately so I think it will be hard to keep him reined in because he will want to enter everything. I make suggestions, but seldom tell him what to do. I let him make his own decisions about entering. If I suggest something and he does the opposite, that's okay. I'll be there for him to talk to if it doesn't work out. I want my kids to make their own decisions and learn from them. I'm glad I'm here for them to come to for advice.
I'm very excited they have chosen to do something in life that I've been successful at and can help them with. Both in roping and in life. There is so much preparation that goes into winning. One of the main things, while roping in Wickenburg, is to not enter every roping. You must save your body, your mind, your horse, and pace yourself. When I say you can rope ALL day long, it's not an exaggeration.
My philosophy in raising my kids and letting them make their own decisions includes running scenarios by them that I have already experienced. For instance, what time do we leave for the roping? Well, what time do you want to be there? How long will it take to get there? Then we talk about how long it will take to get ready to leave. Then they must figure out what time they need to get up. I try to let them make their own decisions as to when they leave. My son loves it when I say, "You think?" When that happens, he stops and says, "Okay I've missed something, and you don't agree." I respond with, "You think?"
It's important to know when to leave to give yourself time to prepare to compete when it's your time to rope. When I was traveling and flying to rodeos, my standard rule was to be on the ground an hour before I had to compete. It gave me time to find what I'd drawn, if I'd seen him run, or if someone I knew had run him. It also gave me time to check out the box and the score and make a game plan for how we wanted to approach it.
Over the years I have competed against many people with incredible ability. But their lack of preparation would hurt them in the long run. Life is about preparation. I've always told my kids that you will use math every day of your life. In almost everything you do, math is involved.
When trying to improve my own, or someone else's, roping I always try to see what wasted motions can be eliminated. When you're trying to eliminate what went wrong and how you can make it happen faster, math is critical. That was always what I looked for when watching a team roping run – how I could eliminate a move that would make things simpler and more efficient. That's what we do every day, teach people how to rope and ride their horse, and eliminate wasted and unnecessary moves that cause them to fail.
I will be in Arizona and then in Las Vegas with our teaching tool, the Speed Trainer. If you come to the South Point and are interested in how the Speed Trainer can help your roping, please come check it out.